Instructions on Uploading Work
INSTRUCTIONS ON UPLOADING WORK.
All students are required to upload digital copies of their work to the School of Architecture FTP address. The easiest way to do this is to use the program CyberDuck, available for both Windows and Mac. You can download this software at CyberDuck's website found here.
Before you upload work to the FTP, you must organize your work in the proper structure. Follow the diagram below to organize your files appropriately before uploading to the FTP.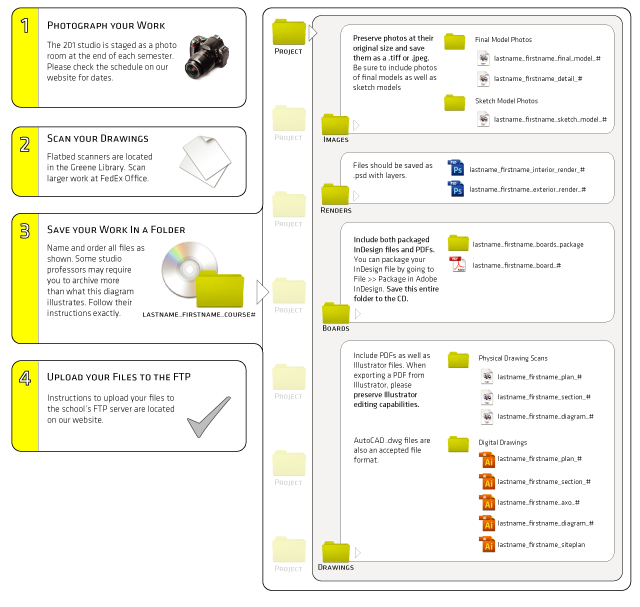 In order upload to the FTP, students must be on the RPI network, or connected via the VPN.
However, it is suggested that students upload while still on campus,
as there have been connection and speed issues off campus. Students
should create a folder with their RCS and upload their work into that
folder.
Publications will except any of the following file types:
Renders or Photos: jpg/bmp/png/tiff/psd or any other common file types
Drawings or Diagrams: ai/pdf files
Boards: Packaged Indesign Files
Please note that students will be able to copy to the hard drive, but
will not be able to move, rename, or delete files once they have
uploaded. If students need to reupload their work, they may name their
folder as follows: saunda2-2
Instructions for connecting to the FTP are as follows:
FTP instructions for Windows
Change these settings in Internet Explorer:
Under "Tools" –> "Internet Options", select the "Advanced" tab.
Check the "Enable FTP folder view (outside of Internet Explorer)" checkbox
Uncheck the "Use Passive FTP (for firewall and DSL modem
compatibility)" checkbox
Click "OK"
Close Internet Explorer.
Open "Computer" (or "My Computer" in Windows XP) and enter this into
the Address Bar:
ftp://128.113.76.196
Use this username: fall2012
Use this password: archive45
If you get a Windows Security Alert from your firewall, click on "Allow Access".
The FTP site should then open, appearing as a normal Windows folder.
You should be able to freely drag files or folders into and out of the
file list.
After you have accessed the FTP, drag and drop your folder containing work into the workspace of CyberDuck.