Digital Sessions S'2012
Digital Sessions

by Casey Rehm at Digital Futures Lab.
Workshop Blog : http://rpi-digitalarch.blogspot.com/ or http://www.kinch-sessions.com/
Tutorials will be posted to the blog the following week.  Students are also encouraged to submit examples of their work from the sessions for publication.
All sessions to be held in Digital Futures Lab (Greene Building) from 7-9pm unless otherwise noted.
Workshops will build on work done during previous sessions within a section.
Supplemental materials will also be provided to allow for sessions to be taken individually.
Contact rehemm@rpi.edu with any questions.

SECTION 1_GRASSHOPPER:
02/01/12_GENERATIVE TOPOLOGY:
Explorations in parametrically driven surface construction.

02/02/12_PROCEDURAL TECTONICS:
Translation of parametric surfaces into architectural tectonics.
SECTION 2_MAYA:
02/08/12_EXPLICIT FIGURE:
Fundamentals in polygon modeling through the production of tectonic geometry.
02/09/12_PARAMETRIC DEPLOYMENT:
Expanding tectonics into proto-architectural constructs through parametric modifiers.

02/16/12_MOTION AND PERCEPTION:
Leveraging animation and rendering tools to extend the capabilities of 3D models.
SECTION 3_PYTHON SCRIPT:

04/11/12_UNLOCKING RHINO:
Fundamentals in scripting to expand the capabilities of Rhino.

04/12/12_CONDITIONAL INTELLIGENCE:
(Time to be announced) Solving complex spatial conditions through object oriented programming.
SECTION 4_CAD:
03/01/12_YOU WANT A JOB, RIGHT?:
Introduction to Autocad, the most prevalent cad package in professional practice.
 04/05/12_BIM:
An introduction to Revit, and its use in a professional project environment.

SECTION 5_PROCESSING:

02/22/12_DRAWING MACHINES:
Introduction to the Processing graphics programming environment.
02/24/12_COMPLEXITY:
(2-4pm Greene Computer Lab) Leveraging Processing to explore complex systems as a generative tool.

04/18/12_VISUALIZING COMPLEXITY:
Analysis and display of real world global systems.
SECTION 6_SIMULATION AND FORM:
04/19/12_MATERIAL AGENCY:
Cross platform. Exploration on simulated materiality (Processing, Grasshopper, Kangaroo, Diva).
04/26/12_SYNTHETIC MATTER:
Materializing complex simulations for fabrication and documentation.

04/25/12_CONFLICT RESOLUTION:
Cross platform hybridization of material simulation and architectural agenda.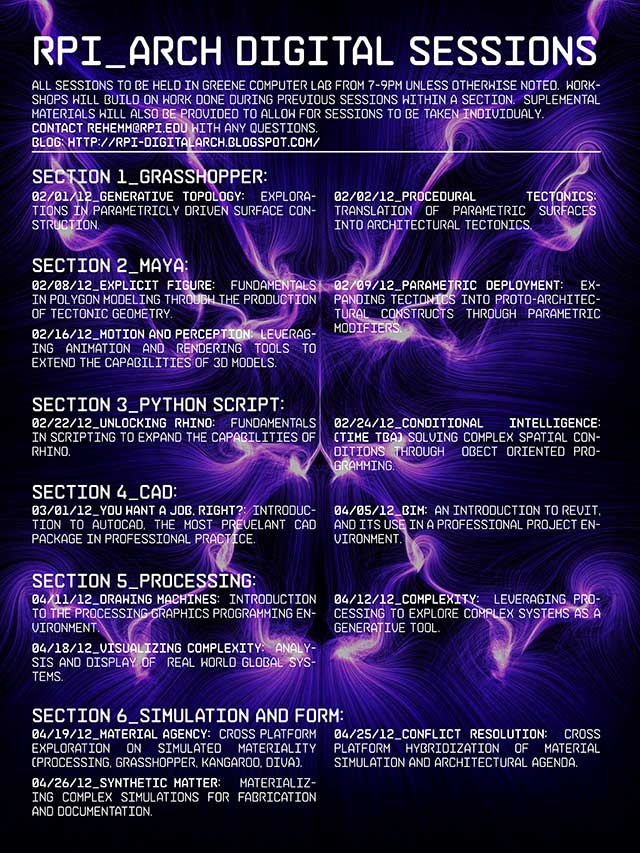 //