2011-12 FP_Perry Section
Final Project | Chris Perry, Assistant Professor
TECHNO-FUTURISM 2
Architecture, Science, Technology
FP Students 2011-12 – Chris Perry Section
///

Techno-Futurism
The instrumental and aesthetic implications of architecture's engagement with science and technology has a long history, part of which includes the period following the Second World War when the rapid technological advances of the Industrial Revolution merged with a general cultural mindset characterized by themes of progress and futurism. For postwar thinkers like Reyner Banham, this interest in a futurist architecture suggested an approach to design based on interdisciplinary practice and technological extrapolation, encouraging architects to look beyond the limits of their own discipline as a means of discovering new forms of knowledge and expertise.
Given the equally revolutionary advances in computer technology in the last twenty years, our contemporary moment can be seen as having many parallels with the postwar period, and not unlike the postwar generation of architects and thinkers, contemporary designers are inevitably faced with the challenge of engaging new technological advances and their implications for architecture.  In our current age of digital, biological, and environmental technologies, these advances are both rapid and widespread, and include motion sensing, interface design, solar tracking photovoltaic skins and wind harnessing technologies, magnetic levitation, and robotics.
This Final Project section introduced students to historical as well as contemporary forms of theory and design as it relates to the influence of science and technology on issues of futurism in architecture.  We began with an examination of design work and criticism from the postwar period and utilized that examination as a historical framework for addressing issues of contemporary design and twenty-first century technological advancement.  Ultimately, the students in this section were encouraged to dream, albeit dream with rigor; they were asked to conceive and design an architecture that is at once aware of its past and rooted in the technological advancements of its present, yet ultimately oriented toward the future.
The Hudson River Valley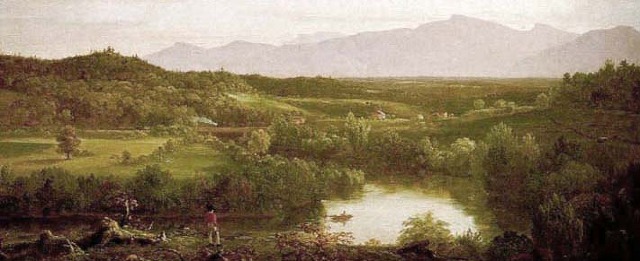 Around 1820 the Hudson River Valley emerged as the nation's first industrial corridor, a vibrant community of townships along the river each of which contributed to a vast network of industries including shipbuilding, ironworks, cement factories, lumber mills, and weapons manufacturers. The valley was also an early incubator of American art and culture, serving as the home of Washington Irving, the Hudson River School of American Romantic painters, and later the postwar counter-culture of art colonies like Woodstock.  Despite this illustrious past, however, many of these industrial townships eventually slipped into economic decline around the middle of the twentieth century.  Thus, a once culturally and industrially vibrant region soon fell into disrepair, burdened by increasing poverty, depopulation, and crime.
Only in the last few years has one begun to see new signs of life in the region, instigated in part by the rise of property value in New York City and a resultant exodus of artists, designers, and young entrepreneurs to townships along the Amtrak / New York Thruway transportation corridor such as Hudson, Kingston, and Beacon.  As a result, many of these post-industrial townships have gradually seen old industrial buildings become the homes of a new and increasingly active culture industry.  In addition to this cultural activity, new forms of technological industry are beginning to emerge as well.  In Kingston, IBM's 260-acre industrial facility, now called TechCity, has been transformed into an incubator for the alternative energy industry.
Thus, the students were asked to draw upon their postwar research as a point of departure in developing a vision for the Hudson River Valley in the coming years and decades.  Encouraged to build on emerging industrial, economic, and cultural trends within the region as a form of forecasting, they were ultimately left with the challenge to match the creative ingenuity and projective energy of postwar design culture as a means of imagining entirely new futures for a region slowly moving towards recovery.