The New Sharon & David Jepson '63 Fund
Making a Difference.
Celebrating Reunion With a Gift.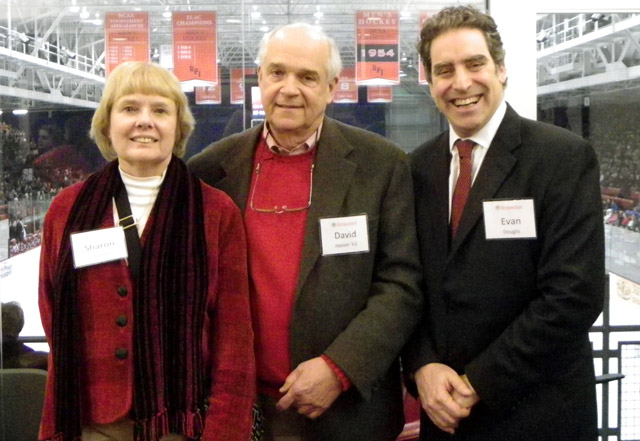 David Jepson '63 is marking the celebration of his 50th reunion year in a grand way, with a $500,000 gift to the Institute.  David and Sharon Jepson's gift will begin to fund the Sharon H. and David G. Jepson '63 Fund for the School of Architecture, which lays the groundwork for the establishment of the Sharon H. and David G. Jepson '63 Career Development Chair in Architecture—the first career development chair dedicated solely to the School of Architecture.
"In order to kick off the celebration of my 50th reunion year, I wanted to recognize the significant role RPI has played in my life," Jepson says. "The education I received at Rensselaer is one of the greatest influences in my life and has allowed for my success."
Excited for the opportunity to reunite with his fellow classmates this fall for Reunion & Homecoming, Jepson hopes his gift inspires others to mark their milestone reunion in a similar fashion.
Jepson, currently a principal at JCJ Architecture in Hartford, Conn., recently stepped down as chairman of the board. Throughout his career at JCJ Architecture, where he started in 1968, Jepson was influential in the growth of the firm from a small, regional business to one of the nation's leading architectural practices. In 2000, he received one of his profession's highest honors with his election to the American Institute of Architects College of Fellows.
Through his gift, Jepson would like to see architecture students experience similar success in their careers by providing opportunities to learn about the important role business plays in architecture.
"I am hopeful that my gift will enhance the experience of architecture students by further teaching them about the business side of the profession, which will, in turn, help both the students and the School of Architecture achieve greater prominence," Jepson says.
"The creation of a named professorship in the School of Architecture represents a transformative educational opportunity for our program," says Evan Douglis, dean of architecture. "It enables us to bring a distinguished leader from anywhere in the world to the school in support of our commitment to develop cutting-edge research with global impact. The Sharon H. and David G. Jepson '63 Career Development Chair in Architecture will allow us to add to our faculty an extraordinary scholar who will contribute significantly to the creative and intellectual vibrancy of our highly talented and diverse student body. "