Faculty Search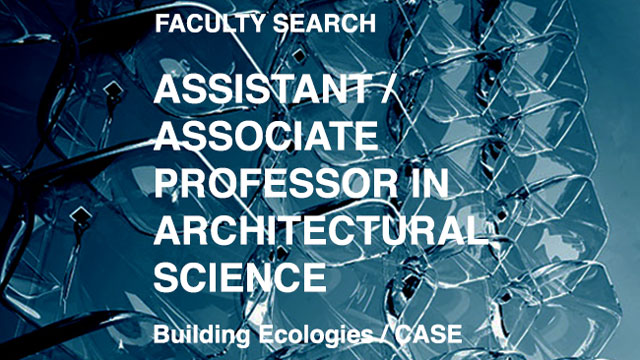 ASSISTANT/ASSOCIATE PROFESSOR
IN ARCHITECTURAL SCIENCES.
The School of Architecture at Rensselaer Polytechnic Institute is seeking qualified candidates to fill a position at the level of Assistant (tenure-track) or Associate (tenured) Professor in the Built Ecologies Program. Successful candidates will begin as early as the fall of 2014.
The School of Architecture.
Rensselaer's School of Architecture in Troy, NY is part of one of the oldest and most accomplished technological universities in the U.S. Renowned for its contemporary, interdisciplinary and forward-looking professional and research programs including the Lighting Research Center [LRC], the Architectural Acoustics program, and the New York City-based Center for Architecture Science and Ecology [CASE], the school is committed to new forms of innovation and discovery as we prepare our graduates for leadership in the profession.
Built Ecologies is a graduate program offering Masters of Science and PhD degrees associated with CASE, a center that includes interdisciplinary collaborators from both the academy and industry with an emphasis on developing innovative, performance-based building strategies. The successful candidate will have opportunity to take advantage of Rensselaer's extensive interdisciplinary resources and can expect to have responsibilities at both the New York City and Troy, NY locations.
Assistant/Associate Professor in Architectural Sciences.
We are seeking candidates who show potential for substantial creative contribution to areas of inquiry related to architectural and environmental systems design as demonstrated by scholarly research, publications, awards and exhibitions. For consideration as an Assistant Professor, candidates must possess an earned PhD, or foreign degree equivalent in Architecture, Physics, Biology, Engineering or closely related field. Additionally, candidates must have teaching experience at the graduate level.
Candidates wishing to be considered at the rank of tenured Associate Professor must meet the requirements described above as well as have tenure at a peer institution. Further, candidates at this level must demonstrate an emerging national reputation in research and/or scholarship and a significant record of quality of educational activities as evidenced by at least three years of teaching and advising evaluations, and a substantial level of service to their home institution and profession. A distinguished record of technologically innovative professional practice and/or research is desirable.
Primary responsibilities will include interdisciplinary research and teaching a broad range of students with educational backgrounds from engineering, sciences and architecture at the PhD, Masters and advanced professional levels. Successful candidates will contribute substantially to the intellectual content of the curriculum and to sustain and link a research and scholarly enterprise to the innovative practice of architecture. A joint appointment in either the School of Science or the School of Engineering may be offered to qualified candidates.
Application Instructions:
To apply, please send the following to the address or email below:
Curriculum vitae
One-page statement on research
One-page statement on teaching
Names and addresses of three individuals who will provide letters of recommendation
School of Architecture Search Committee
c/o Pam Zepf , Executive Assistant – Greene 115
Rensselaer Polytechnic Institute
110 8th Street
Troy, NY 12180-3590
email:
//