Student Vote Due 8/29
2014 Design Intelligence Survey.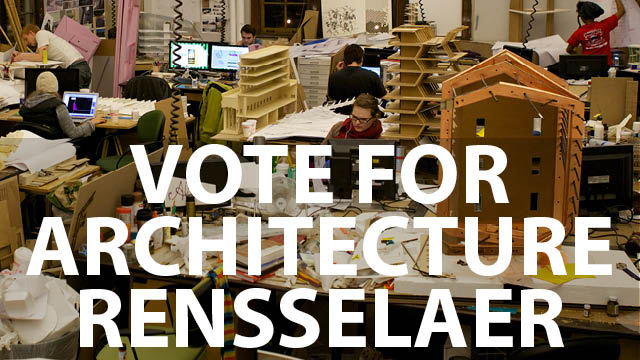 Please consider participating in this year's Design Intelligence survey of schools of architecture. If you are a firm, please use this survey. If you are a current student, please follow this link.
Deadline: August 22nd
DEADLINE EXTENDED (STUDENTS ONLY) > AUGUST 29, 2014
Dear Alumni, Students, and Friends of Rensselaer Architecture:
Every year, DesignIntelligence issues rankings of the Best Architecture and Design Schools based upon feedback they receive from professional firms throughout the country. Although these rankings represent a small selective view of a school's performance, they have shown to have a significant impact on increasing student enrollment, attracting alumni/ae and institutional support, and raising awareness around the world of the reputation of the program.
DesignIntelligence has asked architecture schools once again to reach out to students, professional friends and alumni/ae. We invite you to fill out the brief, anonymous survey in an effort to strengthen our rankings for our school's programs.
Please take a few moments to complete this brief survey and highlight Rensselaer's School of Architecture as a program that is best preparing students for success in the design profession.
Survey Deadline: August 22nd
Link for Architecture Firms: https://www.surveymonkey.com/s/Best_Architecture_Schools
Survey answers go directly to DesignIntelligence via their confidential online survey. Please respond as soon as possible.
Thank you in advance for your generous support!
Evan Douglis, Dean
School of Architecture
Rensselaer Polytechnic Institute
---
VOTE FOR RENSSELAER ARCHITECTURE
Firms: https://www.surveymonkey.com/s/Best_Architecture_Schools
Students: https://www.surveymonkey.com/s/Student_Architecture_Survey
—- //