[Recent Lecture] Jenny Sabin
Wed Oct-14 6pm @ EMPAC:
Jenny Sabin: "Matter Design Computation: Cells, Bits and Atoms"_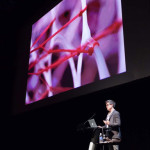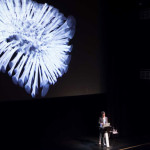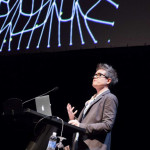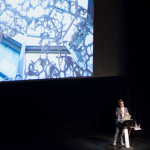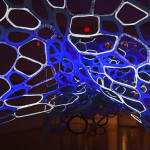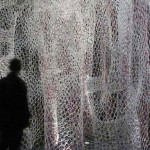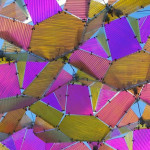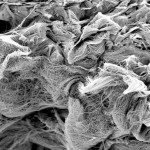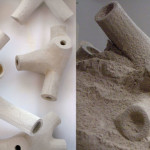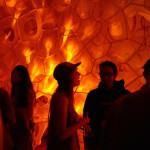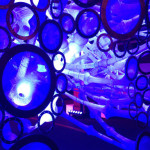 Jenny Sabin's work is at the forefront of a new direction for 21st century architectural practice — one that investigates the intersections of architecture and science, and applies insights and theories from biology and mathematics to the design of material structures. Sabin is the Arthur L. and Isabel B. Wiesenberger Assistant Professor in the area of Design and Emerging Technologies in the Department of Architecture at Cornell University. She is principal of Jenny Sabin Studio, an experimental architectural design studio based in Philadelphia and Director of the Sabin Design Lab at Cornell AAP, a hybrid research and design unit with specialization in computational design, data visualization and digital fabrication.
Sabin's clients and funders include companies and foundations such as Nike Inc., the National Science Foundation, the American Philosophical Society Museum, the Exploratorium and the FRAC Centre. Sabin taught design studios and elective seminars in Architecture at the University of Pennsylvania, 2005-2011. She was the first non-scientist member of the Institute for Medicine and Engineering (IME) at the University of Pennsylvania, where she co-founded LabStudio together with Peter Lloyd Jones. Sabin is also a founding member of the Nonlinear Systems Organization (NSO), a research group at PennDesign started by Cecil Balmond, where she was a Senior Researcher and Director of Research. Sabin holds degrees in ceramics and interdisciplinary visual art from the University of Washington and a Master of Architecture from the University of Pennsylvania where she was awarded the AIA Henry Adams first prize medal and the Arthur Spayd Brooke gold medal for distinguished work in architectural design, 2005. Sabin was awarded a Pew Fellowship in the Arts 2010 and was named a USA Knight Fellow in Architecture, 1 of 50 artists and designers awarded nationally by US Artists. She was recently awarded the prestigious Architectural League Prize for Young Architects by the Architectural League of New York. She has exhibited nationally and internationally most recently at Nike Stadium NYC, the American Philosophical Society Museum and at Ars Electronic, Linz, Austria. Her work was recently exhibited in the internationally acclaimed 9th ArchiLab titled Naturalizing Architecture at FRAC Centre, Orleans, France. Her work has been published extensively including in The Architectural Review, Azure, A+U, Metropolis, Mark Magazine, 306090, 10+1, ACM, American Journal of Pathology, Science, the New York Times, Wired Magazine and various exhibition catalogues and reviews. She co-authored Meander, Variegating Architecture with Ferda Kolatan, 2010. Sabin and Jones were awarded a 2010 Graham Foundation publication grant for the production of LabBook, a book highlighting intersections between architecture and science and the work of LabStudio.
//