Mestizo Robotics at EMPAC Studio 2
Friday April 15, 3pm @ EMPAC Studio 2: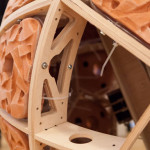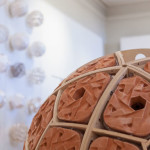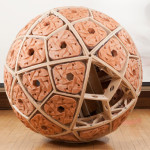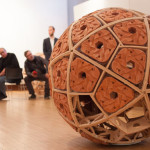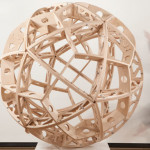 This Friday, April 15, 2016 3-5pm will be the final presentation of Mestizo Robotics, an interdisciplinary project developed in collaboration with students from the schools of Architecture and Engineering as part of Art_X@Rensselaer.
Mestizo Robotics aimed to develop a community of interconnected spherical robots that explore the integration of high and low technology, materials, processes, and cultures. The overarching interest guiding the research is the exploration of the notion of the "technological mestizaje". Mestizaje is understood as a phenomenon with a non-harmonic resolution, but a "heterogeneous juxtaposition aiming toward hybridity" (G. Yudice). The term 'mestizo technology' is used to frame the discussion on how technology is embodied, appropriated, transformed and assimilated in unexpected forms in different development contexts. Students collaborated with the Nano Lab / Universidade Federal of Rio de Janeiro in Brazil and the Electronic and Media Arts/Universidad Tres de Febrero in Buenos Aires, Argentina who are working on related projects.
ENG Students: Jonathan Haase, Fan Rong, Jon Silvestri, Gregory Stankiewicz, Jiequan Zhang, and Judy Zhang.
ARCH Students: Sarah Bertis, Carolyn Chalfant, Carlos Felix, Kendall Grapes, Jessica Krajewski, Claire Liu, Rushdan Majumder, Faith Marro, Christoper Muscari, Cara Porto, Tom Roland (URP), Lauren Ruskauff, Emily Sun, and Wang Zhe.
Guest Faculty: John Hurst (ENG/MANE); Bram Van Heuveln and Mei Si (HASS/CogSci); Ron Eglash and Jim Malazita (HASS/STS); Tamar Gordon and Audrey Bennett (HASS/C&M); Demetrios Comodromos, Adam Dayem, Mae-Ling Lokko, Ted Kruger, Ted Ngai, and Michael Oatman (ARCH); Paolo Cardini and Alejandro Borsani (RISD, guest critics).
Technical Advisor: Mengyu Chen
This project was led by faculty Gustavo Crembil (ARCH), guest artist Paula Gaetano Adi (RISD), and Nao Bustamante (HASS/Arts). Production support and funding were provided by EMPAC, Rensselaer Polytechnic Institute, and the Jaffe Fund for Experimental Media and Performing Arts.