[recent lecture] STELARC
Mon May 2nd – Theater
STELARC: "The Involuntary, the Automated and the Uncanny: Zombies, Cyborgs and Chimeras"_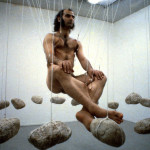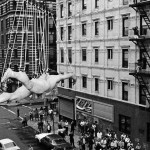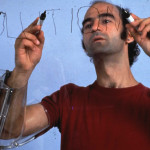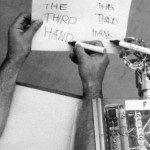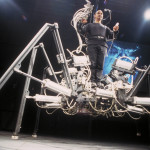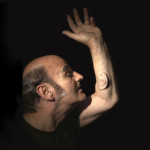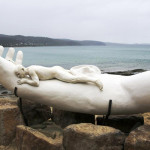 STELARC (Stelios Arcadiou) is an Australian performance artist, born in Limassol, island of Cyprus. After moving to Australia, he studied Arts and Craft at T.S.T.C., Art and Technology at CAUTECH and M.R.I.T., Melbourne University. Stelarc has taught Art and Sociology at Yokohama International School and Sculpture and Drawing at Ballarat University College.
Stelarc is one of the most high-profile artists working within technology and the visual arts. He has visually probed and acoustically amplified his limbs, focusing heavily on extending the capabilities of the human body. As such, most of his pieces center around the notion that the human body is obsolete.
Between 1976-1988 Stelarc completed 26 body suspension performances and has made three films of the inside of his body. He has engineered intimate and involuntary interfaces with the body by using medical instruments, prosthetics, robotics, Virtual Reality systems, the Internet, and biotechnology. He explores Alternate Anatomical Architectures with augmented body constructs.
Stelarc has been extending his body through performances since the late 1960s. He has performed with a Third Hand, an Extended Arm, a Virtual Arm, a Stomach Sculpture, and Exoskeleton, and a 6-legged walking robot. These performances explore involuntary, remote, and Internet choreography of the body with electrical stimulation of the muscles. His "suspension events," in which he hangs his entire body from hooks piercing his skin, probe the limits of the body in both a physical and and technical manner. He is currently surgically constructing an Extra Ear on his arm that will be Internet-enabled, making it a publicly accessible acoustical organ for people in other places.
In 2015 Stelarc received the Australia Council's Emerging and Experimental Arts Award. He is presently a Distinguished Research Fellow in the School of Design and Art, Curtin University. Stelarc's artwork is represented by the SCOTT LIVESEY GALLERIES GALLERIES in Melbourne.
//