Lydia Kallipoliti & Rhett Russo at "Aesthetic Activism" [YSoA]
Oct 13-15, Yale School of Architecture
Professors Lydia Kallipoliti & Rhett Russo at Yale "Aesthetic Activism" Symposium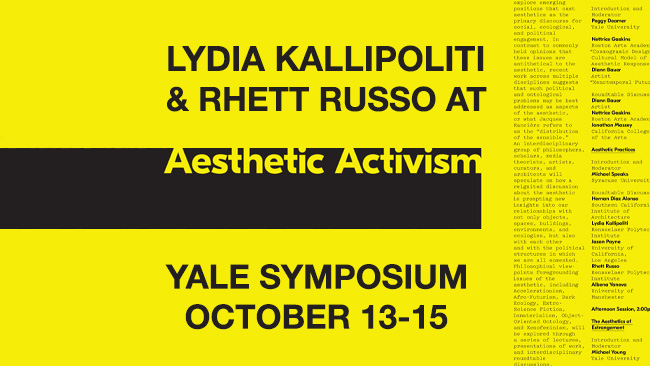 Assistant Professors Lydia Kallipoliti and Rhett Russo will be participating as panelist at The J. Irwin Miller Symposium "Aesthetic Activism" this October 15th, 2016 at Yale School of Architecture.
"Aesthetic Activism" explores emerging positions that cast aesthetics as the primary discourse for social, ecological, and political engagement. In contrast to commonly held opinions that these issues are antithetical to the aesthetic, recent work in aesthetic theory across multiple disciplines suggests that such political and ontological problems may be best addressed as aspects of aesthetic experience. An interdisciplinary group of philosophers, scholars, media theorists, artists, curators, and architects will speculate on how a reignited discourse on aesthetics is prompting new insights into our relationships with not only objects, spaces, environments, and ecologies, but also with each other and political structures in which we are all enmeshed. Philosophical viewpoints foregrounding aesthetics, including Accelerationism, Afro-Futurism, Dark Ecology, Extro-Science Fiction, Immaterialism, Object-Oriented Ontology, and Xenofeminism, will be explored and discussed through a series of lectures, presentations of work, and interdisciplinary roundtable discussions.
Fellow speakers are Elaine Scarry, Jacques Rancière, Mark Foster Gage, Jonathan Massey, Keller Easterling, Catherine Ingraham, Timothy Morton, Ferda Kolatan, Graham Harman, Ariane Lourie Harrison, David Ruy, Tom Wiscombe, Peggy Deamer, Nettrice Gaskins, Diann Bauer, Michael Speaks, Hernan Diaz Alonso, Jason Payne, Albena Yaneva, Michael Young, Gregory Crewdson, Caroline Picard, Charles Ray, and Roger Rothman.
For more information, please visit the "Aesthetic Activism" webpage.
//