S'17 Mid Reviews
S'17 Mid Reviews_
Michael Oatman – "Living with Duchamp"
"Marcel Duchamp is considered the most influential artist of the 20th century, Pablo Picasso running a close second. While Picasso's mastery and visual invention gave new life to traditional themes, he remained – save for his radical invention of Cubism with fellow painter Georges Braque – largely a classicist.
Students in this course [were] charged with designing the exhibition "Living With Duchamp," opening in spring 2018. The exhibition will feature works by Duchamp and works by contemporary artists and musicians influenced by him."
— Michael Oatman, Associate Professor (description of vertical course objective)
Lonn Combs – "Robotic Materialisms"
"This research oriented design studio explore[s] the intersection of traditional craft and digital manipulation in the rising era of choreographed robotic making. Through a close scrutiny of the history of wood as a principle material of durable sustainable construction, the design research trajectory will seek to advance and hybridize agendas of wood construction to support a larger goal of developing sustainable material technologies and processes in architecture.
The studio aims to develop full-scale prototypes latent with broader applications in architecture and design."
— Lonn Combs, Assistant Professor (description of vertical course objective)
Brian De Luna – Final Project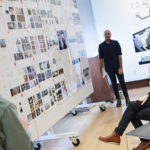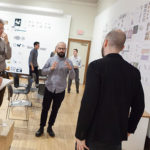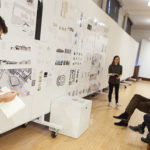 //