Lighting
Lighting
RUSS LESLIE, Professor
Lighting Program Director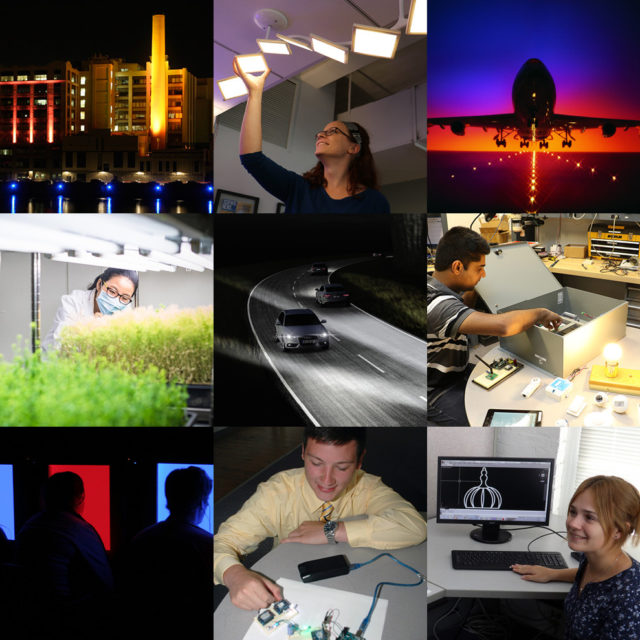 The Graduate Program in Lighting offers the premier M.S. and Ph.D. degrees in lighting to those seeking a multi-disciplinary graduate education at the Rensselaer Lighting Research Center (LRC), the world's leading center for lighting research and education.
Two degree options provide flexibility for those wishing to pursue graduate level study in the field of lighting. Applicants considering the Ph.D. degree are encouraged to begin by enrolling first in the M.S. in Lighting with the option of continuing on to the Ph.D. This allows students to become better acquainted with the work of the LRC and select an area of research concentration for their advanced studies.
Students enrolled in the M.S. in Lighting program explore emerging trends in customization and data analytics, in areas such as the Internet of Things (IoT) and networked/connected lighting, 3D printing of lighting components, lighting for circadian health and wellbeing, lighting for plant health, aviation and automotive lighting, and other topics in lighting technology, application and design.
The degree allows for a comprehensive, "hands-on" study of lighting which culminates in a master's project in the second semester during which each student studies a particular area of lighting in-depth, directly with a faculty adviser.
The LRC's M.S. in Lighting Program now offers a paid post-graduation externship option for three months or more with one of many lighting organizations that have agreed to host LRC students, including Current by GE, OSRAM, Philips Lighting, Bridgelux, Hubbell Lighting, Ketra, USAI Lighting, and numerous others.
We look forward to your further investigation of the program. For more information, visit http://www.lrc.rpi.edu/education/graduateEducation/index.asp
Visit the Graduate Admissions website to apply online.