Master of Architecture II: Environmental Parametrics (Post Professional Program)
ENVIRONMENTAL PARAMETRICS
(Post Professional Degree Program in Architecture)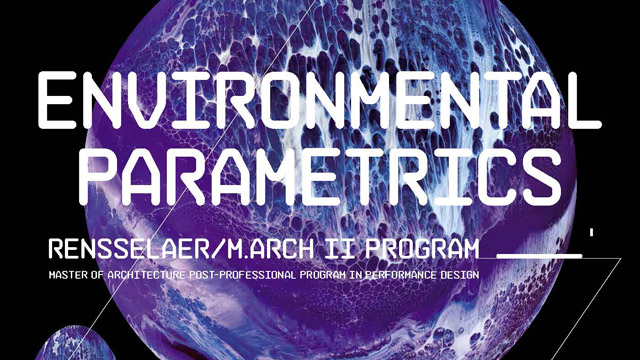 The M.Arch II is designed to enhance the skills, knowledge and abilities of high performing professional practitioners and ambitious researchers. The program will develop knowledge and expertise in the performance design process including state of the art and next generation building systems, structures, and environments. The aim is to: provide a foundation in the physics of buildings, the performance analysis and evaluation of the built environment, and develop performance design strategies that can have an immediate impact on the way performance building design process is conceived and executed thus having an immediate impact on the professional and the larger built ecology.
The program is taught at the Center for Architecture Science and Ecology (CASE) in New York City.  CASE is a multi-institutional and professional office research collaboration co-hosted by Rensselaer Polytechnic Institute and Skidmore, Owings & Merrill (SOM). Additional information can be found on CASE's website: www.case.rpi.edu.
The Master of Architecture II Post Professional degree program with a concentration in Performance Design requires 30 credit hours and is expected to be complete in two semesters of study.   The M.Arch.II is not a professional degree and will not lead to the establishment of a license to practice architecture in the United States or an NCARB certificate.
Eligibility
Students with a professional degree in architecture are eligible for the program. Qualified applicants are considered for competitive, merit-based scholarships.
A portfolio of creative works is required as part of the application.  The portfolio is submitted digitally using the online graduate application:http://admissions.rpi.edu/graduate/apply_now.html
The GRE is not required.
For the program beginning in fall 2015, first consideration is given to applications received by January 1, 2015.  Apply online at Graduate Admissions.
Contact Information
For more information, please contact us at (518-276-6466).
//