Master of Architecture II: Geofutures (Post Professional Program)
GEOFUTURES
(Post Professional Program in Architecture and Urbanism)
CHRIS PERRY, Assistant Professor
Program Director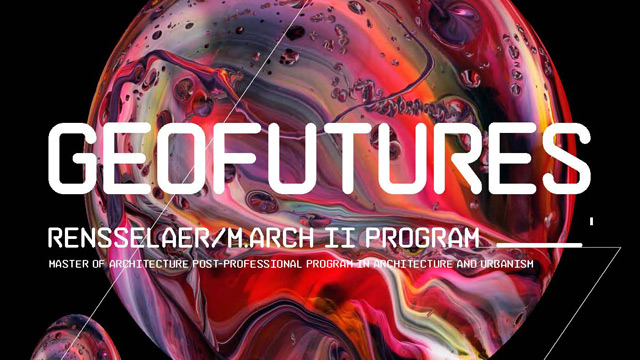 Geofutures endeavors to convert crisis into opportunity by harnessing both the pressures of a planet at risk and the promise of emerging environmental technologies to generate a broad spectrum of possible, if not probable, urban and architectural futures for the twenty-first century.
Premised on the belief that the challenges of the contemporary city are far too complex for any one discipline to manage on its own, Geofutures brings together architects, landscape architects, scientists, and technologists to address a wide range of interdisciplinary issues.
Finally, while firmly invested in the future, Geofutures also recognizes the importance of the past and thus draws upon a rich history of urban futurism within the discipline of architecture, including such iconic urban futurist proposals as Antonio Sant'Elia's La Citta Nuova (1914), Frank Lloyd Wright's Broadacre City (1932), Kenzo Tange's Plan for Tokyo (1960), and Andrea Branzi's Agronica (1994).
Master of Architecture II (Post-Professional Degree)
The GeofuturesPost Professional Program in Architecture and Urbanism is a 30-credit, two-semester program consisting of consecutive fall and spring terms. The objective of the program is to provide outstanding young professionals who hold a Bachelor of Architecture or Master of Architecture degree the opportunity to enter into an intensive, post professional course of study that encourages both critical awareness and technological proficiency in the context of design experimentation. At the end of this two-semester course of study students are awarded a Master of Architecture Post-Professional Degree (MArch II).  The M.Arch.II is not a professional degree and will not lead to the establishment of a license to practice architecture in the United States or an NCARB certificate.
Geofutures offers a diversified curriculum of design, theory, and technology courses taught by an equally diverse group of faculty. To accomplish this, the program takes a modular approach to its course sequencing, the intention of which is to expose students to a variegated body of knowledge and expertise while simultaneously maintaining a consistent and carefully structured course of study. 
Eligibility
Students with a professional degree in architecture are eligible for the program. Qualified applicants are considered for competitive, merit-based scholarships.
A portfolio of creative works is required as part of the application.  The portfolio is submitted digitally using the online graduate application:  http://admissions.rpi.edu/graduate/apply_now.html
The GRE is not required.
For the program beginning in fall 2013, first consideration is given to applications received by December 15, 2012.  Apply online at Graduate Admissions. 

Contact Information
For more information please contact the director of the Geofutures program, Chris Perry, at cperry3@rpi.edu or the graduate department at (518-276-3986).