Influx all-school book launch. Wed Sep 17, 6:30pm @ EMPAC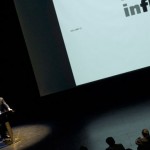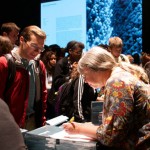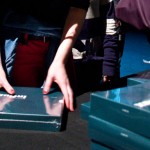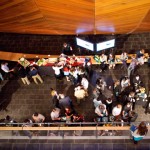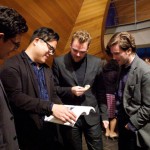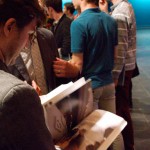 The launch event for Influx, a historic all-school publication of student work, school exhibitions, and unique degree program information for the Rensselaer School of Architecture took place at the Curtis R. Priem Experimental Media and Performing Arts Center (EMPAC) this past Wednesday evening. Following remarks from Dean Evan Douglis in Goodman Studio I at EMPAC, each student of the School of Architecture received a complimentary copy of Influx. Students and faculty of the School gathered afterward at Evelyn's Café for a catered reception under an atmosphere of live music from Jonas Braasch, professor of architectural acoustics, and Zach Layton, a doctoral student in Electronic Arts.
Influx embodies the School of Architecture's transdisciplinary approach to education, consistent theme of radical speculation, innovative pedagogical methods, and research addressing major global challenges. It is a compilation that has been an ambitious undertaking, involving students, faculty, and school partners across the globe. We thank all who celebrated with us the release of this remarkable publication.
//