Gustavo Crembil at FUSE Festival (Vancouver)
Faculty News:
GUSTAVO CREMBIL HIGHLIGHTED AT FUSE FESTIVAL / ISEA'15 (VANCOUVER).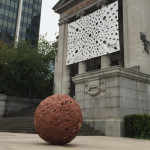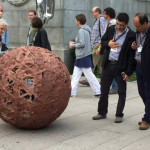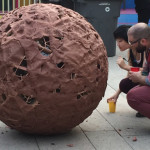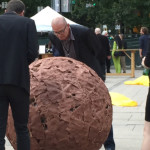 On Saturday August 15th at the renowned Vancouver Art Gallery, Associate Professor Gustavo Crembil (RPI/SoA) and collaborating artist Paula Gaetano Adi (RISD) presented a new version of TZ'IJK, their "mestizo robot" prototype, in an outdoor exhibition co-organized by FUSE, a wildly popular festival where art, music and performance collide, and the 21st International Symposium on Electronic Art (ISEA2015), one of the world's most prestigious global events presenting work at the intersection of art and technology. The exhibition was curated by ISEA's Artistic Directors Kate Armstrong and Malcom Levy.
TZ'IJK was recognized as one the highlights of the festival by its organizers. Co-curator Kate Armstrong commented in an interview:
"[TZ'IJK]… challenges people to think about the aesthetics of technology and the dominant forms of control and definition that shape our experience. It is amazing that in the context of a moment we are told is a cultural and technological explosion of possibility, we are actually seeing in some cases a reduction in our imaginative prospects. I see this work as an incredible provocation." (1)
This TZ'IJK prototype is a new chapter of an on-going research project on "mestizo robotics" developed in-collaboration by Gustavo Crembil and Paula Gaetano Adi. This Fall 2015, artist Nao Bustamante (RPI/HASS Arts) will join Crembil and Gaetano Adi  to articulate this project as a design & build studio course as part of Art_X@Rensselaer (a recently launched "art across the curriculum" initiative). Students from architecture, arts, and engineering will design and build an installation to be deployed and interconnected across the American continent (2). Interested RPI students, please contact Prof. Crembil at
——
(1) http://vancouverisawesome.com/2015/08/10/isea2015-fuse-and-disruption/
(2) In partnership with the Nano Lab / Universidade Federal of Rio de Janeiro (Brazil) and the Electronic & Media Arts / Universidad Tres de Febrero (Buenos Aires, Argentina).
//