2016S_Ghana Rotch / Crembil-Lokko Studio
Design-Build @ Rensselaer Architecture:
THE GOLDEN CUBE.
The "Golden Cube" is a full-scale shelter structure developed, designed and built recently by a group of 3rd and 4th year students of Rensselaer School of Architecture led by Associate Professor Gustavo Crembil and PhD candidate Mae-Ling Lokko.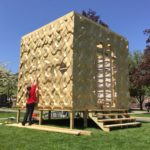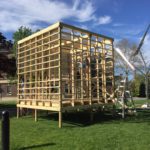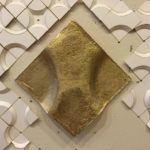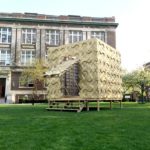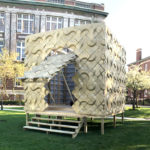 Supported by the 2016 Rotch Foundation Travel Studio grant, it was designed as a temporary structure for the Chale Wote Festival in Ghana, a street art-festival in Old Accra aimed at using dynamic public programming and creative arts to among other goals, influence a new model for urban regeneration.
The shed is built with custom-made cellulose (recycled paper) pressed panels using flour and starch as a binding agents. Made up of three basic types, that follow Truchet tiling pattems, the panels employ historical Ghanaian adinkra ideography organizational principles and logic to describe the shed's social and environmental program. Coated with metallic gold, the color of the panels  leverages the earliest form of Ghanaian adinkra artifacts in the form of gold weights and in order to propose new value for waste.
The method of production with low-tech, easily deployable and available technologies in contexts like Ghana, drove the production methods, pressing equipment and assembly of the Golden Cube. Over the spring break, a group from the Crembil / Lokko Studio visited Jamestown, Accra the site of the Chale Wote festival as well as engaged ongoing collaborators including Ashesi University's Design Lab, innovative local architects and Chale Wote artists.
Crembil / Lokko Studio is part of a wider academic-industrial initiative initiated by CASE to propel the upcycling of biomaterial waste from agri-industry towards critical urban development interventions. Concurrently, CASE's architecture studio has been investigating valuable models for technology transfer with coconut agricultural waste developed at CASE NYC led by Demetrios Comodromos, Anna Dyson and Josh Draper.
///_