Carla Leitao Chair at ACSA Meeting & Call for Papers
Call for papers deadline: October 5, 2016; Annual Meeting: March 23-25, 2017
Carla Leitao to Chair "Addressability" Topic at ACSA Annual Meeting & Call for Papers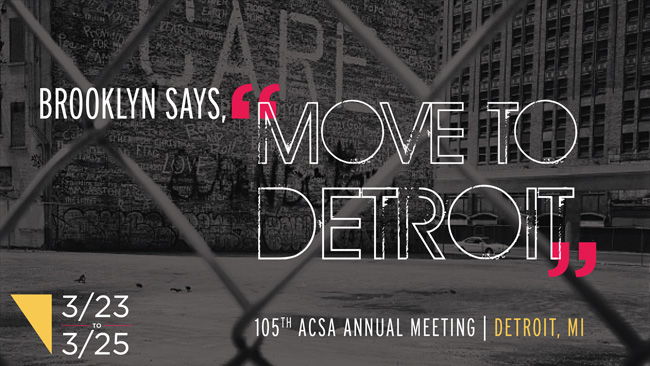 Lecturer Carla Leitao of the Rensselaer School of Architecture will be joined by Ed Keller of Parsons The New School for Design in chairing the Addressability topic at the upcoming Association of Collegiate Schools of Architecture (ACSA) Annual Meeting. The ACSA invites paper submissions under 18 thematic session topics plus an additional open category. The deadline for papers has been extended to October 5, 2016. The deadline for for projects and posters is November 16, 2016.
To speak on the thematic topic Addressability:
"Through the lens of the concept of addressability, we propose to reflect on and discuss the ways in which different modes of information collection, data mining, and knowledge production define a plethora of architectural and urban alternative platforms for interconnecting individuals, populations and cultural forms.
While addressability is a term used in computer science and information technology, we propose it as a condition of belonging, transparency and history by which exchanges – cultural, informational, social, political – create new geologies for urban existence, and myriad possibilities for individual and collective agency.
By focusing on the procedural aspects of these processes, the objective is to reveal avenues for potential new definitions and/or characterizations of cities or urban existence; which are otherwise invisible or suppressed in existing models or materialities. We suggest that an anticipatory and predictive urban forensics, or 'dissection' of these new substantive forms of addressability might propitiate and host generative processes in the design of a more politically responsive 'smart city'."
The annual meeting takes place in Detroit, Michigan in spring 2017 and is entitled "Brooklyn says "Move to Detroit." Other chairpersons include Sherry Ahrentzen, Ronald Shorr, Benjamin Flowers, Alexis Gregory, John Poros, Alex Wall, Luis Pancorbo, Montserrat Bonvehi Rosich, Edward M. Orlowski, Evangelos Kotsioris, Molly Wright Steenson, Francesca Torello, Kai K. Gutschow, Brian Kelly, Erkin Ozay, Joseph Krupczynski, David J. Goodman, Miodrag Mitrasinovic, Grace Ong Yan, Rajiv Sharma, Vivian Loftness, Rahul Mehrotra, and Monica Ponce de Leon.
For more informaiton on the ACSA Annual Meeting and submission opportunities, please visit: http://www.acsa-arch.org/programs-events/conferences/annual-meeting/105th-annual-meeting
//