Bedford Workshop: Application DEADLINE
Applications Due Monday April 10, 2:00pm:
2017 Bedford Workshop Announced_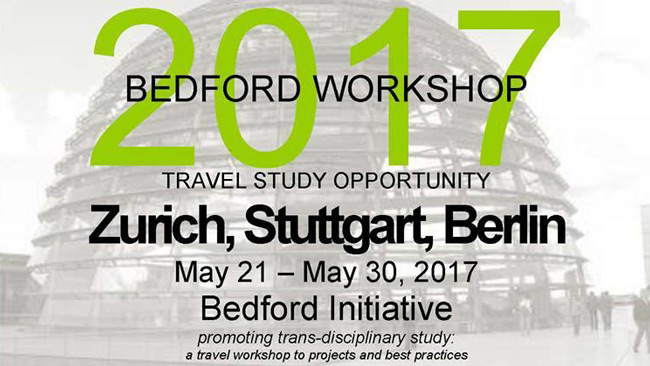 ZURICH, STUTTGART, BERLIN – The Bedford Initiative, which promotes trans-disciplinary study in architecture and engineering, has announced the destinations of the annual travel workshop taking place May 21-30, 2017. Six architecture students and six engineering students will travel and study with Visiting Professor Holger Schulze-Ehring (Buro Ehring Engineering) in Zurich, Switzerland, and Stuttgart and Berlin, Germany. Students will partake in a collaborative design exercise and study best practices, and exemplary innovative buildings, bridges and other structures that rely on a constructive interdisciplinary discourse.
Applicants from the School of Architecture will be fourth or fifth-year undergraduates, or second/third-year MArch I graduate students. Application submissions, consisting of a one-page statement of interest indicating how this travel study relates to your interests and educational/professional plans, and a completed application form are due in the architecture office (GR115) no later than Monday, April 10, 2017 at 2:00pm.
For more information, please contact Erik Churchill (churce2@rpi.edu) or Chris Letchford (letchc@rpi.edu).
//