Applications Due: Sep-20 noon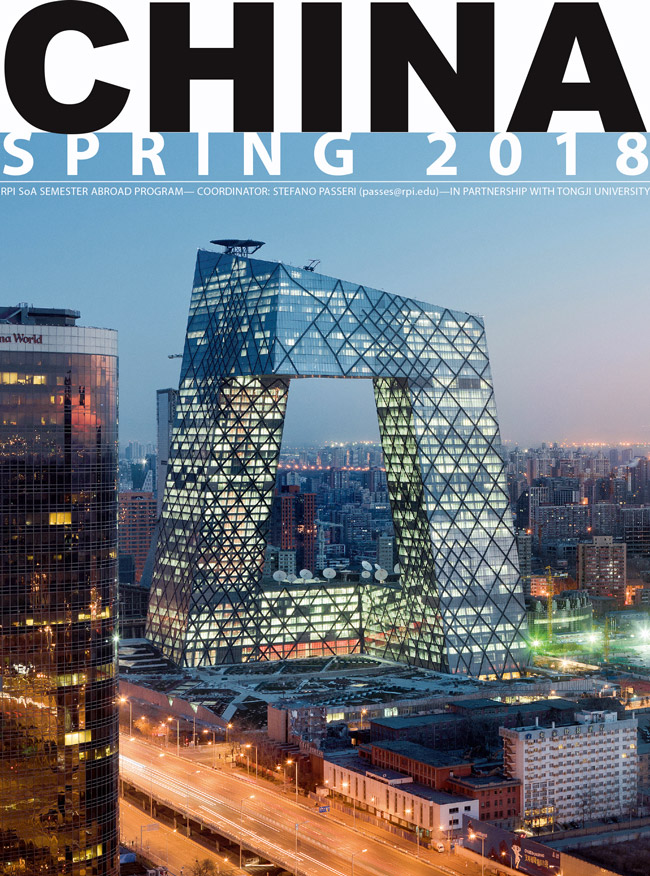 Semester-Abroad in China in partnership with Tongji University (Shanghai)_
Faculty Coordinator: Stefano Passeri, email: 
Rensselaer School of Architecture is thrilled to launch a new edition of the China Semester Abroad Program for Spring 2018. The program is a collaboration with the prestigious Tongji University / College of Architecture & Urban Planning in Shanghai and includes trips to Hong Kong, Beijing, Xi'an and more. Chinese cities are growing at an unprecedented rate making them into some of the most architecturally active and exciting urban environments worldwide. The program will immerse students into China's rich cultural heritage and long architectural tradition. It is a once-in-a-lifetime opportunity to gain first hand experience into China's rapidly growing building industry and to network with leading practitioners in the field.
INFO SESSION
Wednesday, September 6th, 6PM – Greene Gallery
Open to all 1st – 4th year students. Pizza and soda will be provided.
APPLICATIONS DUE
Wednesday, September 20th Noon – Dean's Office Front Desk
Eligibility: 3rd & 4th year B.Arch students.
Application package must include: portfolio and a 1-page document listing full name, year of study, email, telephone, citizenship and passport number (if available).
---
Image: OMA, CCTV Headquarters, Beijing (2012). Photo: Iwan Baan