Undergraduate Application
How to Apply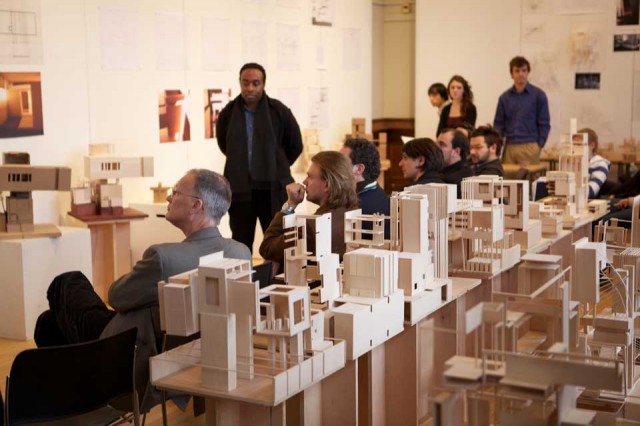 Both the Bachelor of Architecture and the Master of Architecture I are accredited professional programs whose curriculum is centered upon an integrated approach to design. Engagement and access to the very newest technologies are balanced with critical theory, history and social concerns, creating a truly diverse and well rounded education.
Freshman Application Options
This is an exciting time to be considering Rensselaer — a place where enthusiasm and innovation are the hallmarks of our programs and classes — an outstanding technological university — an exceptional place to learn, grow, and cultivate your talents.  The freshmen academic preparation and requirements can be found on this link http://admissions.rpi.edu/undergraduate/admission/freshman/requirements.html
Application process for the Common Application or the Universal College Application are listed on this web site: http://admissions.rpi.edu/undergraduate/admission/freshman/application.html
Deadlines
Undergraduate Deadlines:
Application Deadlines
 
Early Decision I (ED I):
November 1
Accelerated Programs:
November 1
Early Decision II (ED II):
December 15
Regular Decision:
January 15
Transfer Admissions:
March 1
Summer Term – Architecture Students Only. Enter summer session end of May.
Early Decision (Binding)
We offer two binding Early Decision options for students who feel that Rensselaer is their first-choice school.
The annual deadline for Early Decision I is November 1st, and the deadline for Early Decision II is December 15th.
If admitted under ED I or ED II, you are committed to enroll at Rensselaer (which requires a nonrefundable deposit), as long as your scholarship meets your needs.
Immediately upon acceptance of your Early Decision admission offer, you must withdraw all other applications and make no subsequent applications.
In addition to earlier notification of your admission decision, you will also receive an earlier financial aid package.
Rensselaer does not offer an Early Action option.
Regular Decision
A Regular Decision application is the most common way to apply. Notification of acceptance is posted in  March.
Tuition and Fees
http://admissions.rpi.edu/aid/costs.html
International Undergraduate Students
Academic requirements are the same for students outside the U.S.  as they are for domestic applicants.  We require four years of each English and Mathematics and three years of each Science and Social studies/history.   Math should be through precalculus or higher and science preparation should include chemistry and physics.
Please check the following links for our general requirements:
Transfer Admissions
Every year, more than 200 transfer students join our community as Rensselaer welcomes transfer students from accredited two- and four-year colleges in the United States and around the world. Admission to Rensselaer is competitive and based on academic performance.
To be considered, transfer applicants should have completed 12 or more transferable college credits, and must be in good academic standing at the institutions(s) they are attending or have attended.  Students must be prepared to start studios Summer Session I in the middle of May (see sis.rip.edu 'Summer Class Hour Schedule' for exact dates). Transfer credits are evaluated by each department,  the School of Architecture typically does not accept studio credits to transfer, all students must attend summer sessions the end of May.  The requirements for the B.Arch degree will be 4.5 years for completion.
Note: Summer sessions may be waived with the review of the candidate's course(s) / studio(s), and portfolio. Students who receive the waiver approval will be allowed to enter second year in the Fall semester.  The requirements for the B.Arch degree will be 4 years for completion.
Transfer Student Requirements: http://admissions.rpi.edu/undergraduate/admission/transfer/requirements.html
Transfer Student Application Checklist: http://admissions.rpi.edu/undergraduate/admission/transfer/index.html
Academic Preparation:
Minimum cumulative GPA: 3.0 (may be higher for some disciplines), special circumstances will be considered when the admissions decision is made
12 or more transferable college credits completed
Appropriate prerequisite courses required
Good standing at institution(s) attending or attended
International transfer students check for any specific international admissions requirements
Transfer Student Deadlines:
Architecture applicants must submit their portfolios with their applications on line at http://rpi.slideroom.com.
Architecture Admissions: March 1 *Architecture applicants considered for summer admission only.   All materials, including creative portfolio, are due March 1.
Transfer Credits
Once accepted, you'll receive an evaluation of your course work from the Rensselaer faculty. Transfer students can expect to receive full credit for courses of comparable depth. Rensselaer will only transfer credit for courses in which you received a grade of C or better.
To ensure the most complete evaluation, please have official transcripts and course descriptions sent from all previously attended colleges.
In order to earn a Rensselaer undergraduate degree, a student must be registered full-time for a minimum of four semesters and must complete at least 64 credits at Rensselaer, all of which will be applied to the baccalaureate degree.
If you would like to transfer AP, IB, or A level credit from your high school, make sure your official test results are sent directly to:
Rensselaer Admissions, Transfer Programs
Rensselaer Polytechnic Institute
110 8th Street
Troy, NY 12180
///