Portfolio Guidelines
Portfolio Requirements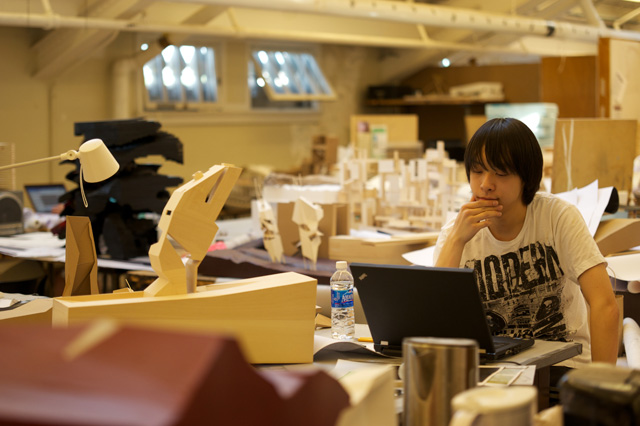 In the context of acquiring as much insight as possible about the inspiring architecture program we offer here at Rensselaer, we urge all transfers and prospective students to join us at any one of our fall Open House events on campus. Each features a presentation by the Dean who will speak in great detail about the contemporary curriculum, the renowned faculty, the popular study-abroad opportunities, the impressive digital design and manufacturing resources, the world-class lecture series, the diverse student body, the broad internship and employment opportunities, and overall the unique and distinguishing attributes of the program that make it one of the premier architecture schools throughout the U.S.
In addition, we provide walking tours of the entire campus as well as a walk-through  of the School of Architecture building so one can see in person the exceptional setting we offer for the beginning student of architecture.  The School also conducts Portfolio Review sessions on specific dates (open house only).  Sign up to visit: http://www.arch.rpi.edu/apply/schedule-a-visit/ Any inquires regarding the schedule should be forwarded to Lecia O'Dell at .
Online Portfolio Submission
The School of Architecture at Rensselaer requires that every applicant to the B.Arch professional program submit their portfolio online, using our online portfolio system to upload your portfolio with digital files. A digital submission should make it easier for all candidates to format their material as well as accelerate the application evaluation process.
Due to unforeseen circumstances, where you cannot submit your portfolio online, a written request must be submitted to Lecia O'Dell at.  The request  will be reviewed by the Dean's office, and then you will be notified if the request was approved  for submitting a hard copy portfolio.
[Please click here for printable instructions – Password needed]
Portfolio Content
The priority of the portfolio is to enable our admissions department here at Rensselaer to evaluate each student's creative achievement in the context of being accepted into an internationally renowned architecture program. The work included within the portfolio may consist of a range of media: pencil, charcoal, oil stick, and water color drawings; acrylic or oil paintings; paper, chipboard, wood, metal, ceramic or mixed media models; measured drawings or digital renderings; and black and white and color photographs, music scores, video, and other creative endeavors.
Although we encourage prospective students to acquire a range of software skills prior to their enrollment in our program in order to become digitally savvy early in their young careers, we would prefer that you do not include architectural drafted drawings in the portfolio.
We are far more interested in building a community of students that are creatively and intellectually inspired. Therefore, a portfolio comprised of a range of mixed media that is emblematic of the prospective student's imagination and creative vision will be deemed most important during the evaluation process.
Online Uploading Requirements
Please go to our online portfolio submission site at http://rpi.slideroom.com to submit your work. The system allows you to create an inventory of your portfolio projects. Each image should include the following information: title, date, medium, dimensions, and a brief description. You may upload jpeg images or video works. It is recommended that each portfolio consist (on average) of 10-20 images of work. As a reminder, the greater the range of work  prospective candidates include in their portfolio the easier it will be for the admissions department to evaluate their breadth of creative potential.
Once your portfolio is uploaded, it can be viewed and rearranged until the final submission is made. No changes can be made following the final submission of your portfolio. There is a $10 fee for each portfolio submission you make through Slideroom. Be sure to submit your portfolio to the correct degree level and program (undergraduate or transfer). If you experience technical difficulties while uploading your portfolio, you may send an e-mail to for technical support.
Related Links:
Undergraduate Admissions
Graduate Admissions
///