Fabrication Shop
Resources
Fabrication Shop
GREENE BUILDING, ROOM #014
518-276-6870
Manager: Bill Bergman
Supervisor: Jim Van Duyne
The School of Architecture Fabrication facility boasts a recently expanded shop with an eclectic and unique grouping of equipment and technical abilities.  Though we primarily serve the School of Architecture student body and its faculty, other members of the RPI community are welcome.  Centrally located on the zero level of the Greene Building it is convenient to the studios above and campus in general.  Supervised by two full time staff and numerous student monitors, the shop is usually open 7 days. (See Schedule) The SoA shop is one of four academic shops on campus in addition there is one professional machine shop and a materials testing lab.  Any student wishing to use shop facilities must pass the Safety Course before using any on campus facility.  The RPI Shop community uses a unique online safety course administered through the LMS (Learning Management System)  Shop safety and technique is addressed immediately in the first year experience and is encouraged and enforced throughout the architecture curriculum. Subdivided for safety, five separate areas allow for a healthy and productive work environment.
Fabrication Shop Hours >>> [CLICK HERE]
Fabrication Shop Intranet Site >>> [CLICK HERE]
Fabrication Areas: Main Equipment & Tools

1) Machine Room
Large Equipment: 10″ Table Saw, 14″ Band Saw, Radial Arm Saw, 12″ Sliding Compound Miter Saw, Scroll Saw, Drill Presses, 18″ Thickness Planer, Oscillating Spindle Sander, Combination Belt/Disc Sander, Wood Lathe, Hot Wire Foam Cutters, Vertical Mill/Drill, Metal Lathe
Micro Equipment: 3 Inch Table Saw, 1″ Belt Sander, Micro Vertical Mill and Scroll Saw.
Powered Hand-Tools: Routers, Belt/Disc Sanders, Jigsaws, Drills, Circular Saws, Pneumatic Brad Nailer, Pneumatic Stapler, Pneumatic Die Grinder, Angle Grinder, Plate Joiner.
Non-Powered Hand-Tools: Chisels, Hammers, Screw Drivers, Pliers, Wire Cutters, Hand Planes, Files and Rasps, Saws.
2) CNC Milling
Three Axis Techno Router.
48″x96″ 10 HP Vaccum Bed.
Three HP Colombo Spindle.
3) Laser Cutting
48″ x 48″ Vytek FB 100 Watt Laser.
18″ X 32″ Universal Laser 60 Watts.
Purex Fume extraction.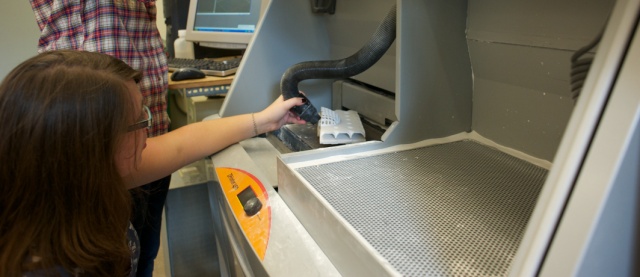 4) Rapid Prototyping
Z450 Zcorp Printer.
Z4 Waxer.
ZP150 Powder.
12x18x3 Thermo-former.
5) Ceramic Lab
Large Bailey Oval Kiln and small Test Kiln.
30 Ton Hydraulic Molding Press.
Slip Casting pumps and tables.
Clay mixer and Pug Mill
///