DigitalFutures Lab
Digital Futures Lab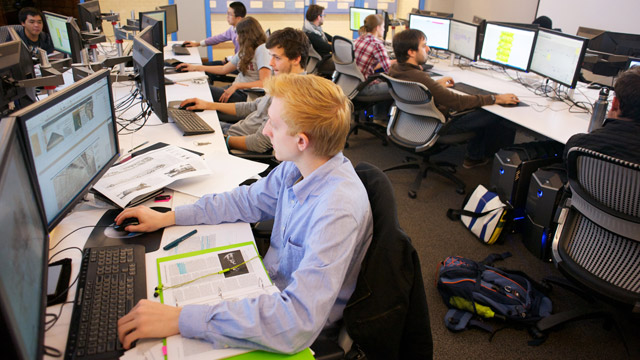 The Digital Futures Lab (DFL) affords the School a powerful computational resource dedicated to extending the capacity of students, designers and researchers in their pursuit of next-generation integrated design techniques and solutions at and between the urban, landscape, architectural and product scales. High-end, networked hardware delivers the power to drive complex heavy multi-dimensional modeling with quick refresh rates (approaching real-time feedback) and to associate those models and designs with performance based analysis and simulation applications. The lab enhances visualization with dual 23" monitors at each station, includes multiple projection options, features a built-in video conferencing capacity and integrates a render farm that operates in the background without monopolizing valuable desktop CPU time.
The 32-station DFL is dedicated to high-end computationally intensive design applications that complement the ubiquitous, strategic engagement of laptop based computation in the architecture curriculum through a combination of scheduled classes and seminars, the assignment of some stations to a dedicated upper-level, computation-intense studio and school of architecture student access.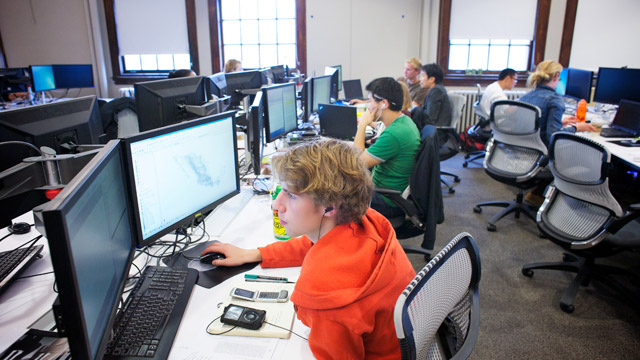 HARDWARE
32 Dell Alienware Area 51 ALX
Intel Core i7 980 Extreme w/ 6 dual-cores (3.33GHz, 12MB Cache)
12GB Triple Channel 1333MHz DDR3
ATI Radeon HD 5970 Graphics Card w/ Dual GPUs
Dual 23" Dell P2311H LCD Monitors w/ 2 USB ports
INFRASTRUCTURE
Video Conferencing – Dual 55" LCD screens
Four Projectors to support multiple lab-use configurations.
Render Farm that tethers up to 120 unused machine cores to operate at high speed in the background. The render farm is also available from student laptops.
Storage Server – 3.5 terabytes of online storage available as a mounted network drive at all workstations.
Dual 23" Monitors with USB ports.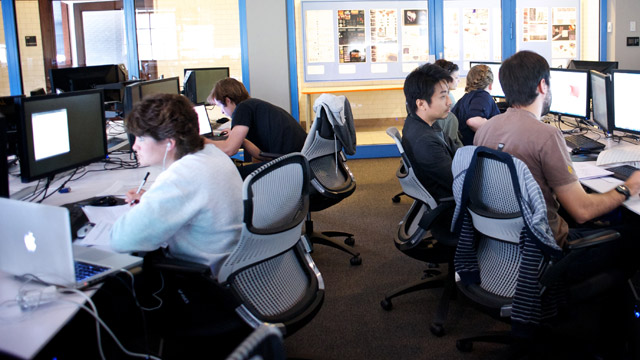 APPLICATIONS
Rhino 4.0 SR9 and Rhino 5.0 WIP
Grasshopper for Rhino
V-Ray for Rhino
Adobe Creative Suite 5 Design Premium w/ Photoshop, Illustrator, InDesign, Fireworks, Flash, Adobe Acrobat Pro
Ecotect / Weathertool
Bentley Suite, Microstation V8, Generative Components, Hevacomp etc.
RISA-3D 8.1
Wolfram Mathematica 8.0
Microsoft Excel 2010 Viewer
Fluent
SATELLITE DFL LAB – GREENE 012
Greene 012 is an associated satellite lab dedicated to Architecture with six additional high-end stations.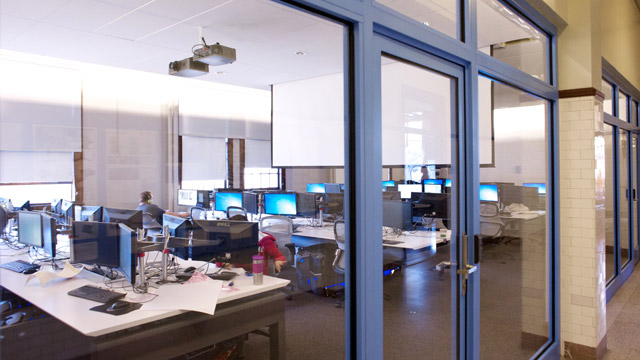 ///